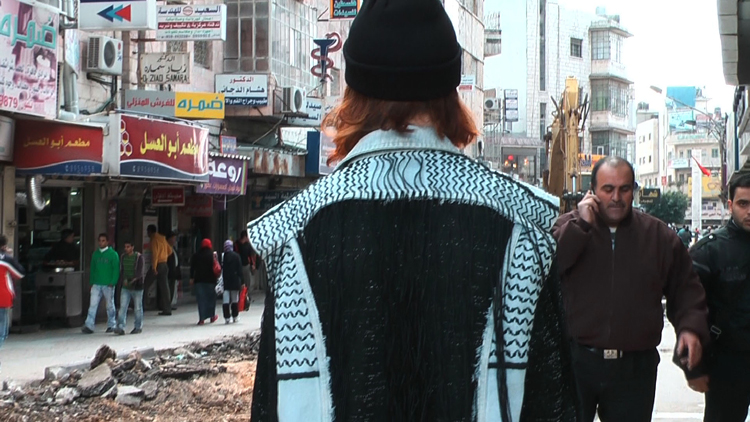 Paralyzed Movement deals with how a religiously, politically, and symbolically charged place like the West Bank can be described. The conditions in Palestine have in many respects become hackneyed; there are piles and piles of media pictures depicting roadblocks and soldiers. This project investigates how people can lift their gaze from a paralyzed state and seek movement. The film shown is one of several that resulted from a series of trips and joint artistic projects.
Early one spring morning in Ramallah, the Palestinian video artist Razan Akremawy and I are looking for a picture that says everything. We stroll along the streets of the city; I am in a denim vest from the '90s with an embroidered keffiyeh pattern while Razan films and directs. Emotions swing between hope and despair.
Paralyzed Movement
Paralyzed Movement handlar om hur man konstnärligt kan skildra en så religiöst, politiskt och symboliskt laddad plats som Västbanken. Tillståndet i Palestina har i många avseenden blivit utslitet; mediala bilder av vägspärrar och soldater läggs på hög. Projektet undersöker hur man kan lyfta blicken från ett paralyserat läge och söka efter rörelse. Filmen som visas är ett av flera resultat av en serie resor och konstnärliga samarbetsprojekt.
Under en tidig vårdag i Ramallah letar jag tillsammans med den palestinska videokonstnären Razan Akremawy efter en bild som ska säga allt. Vi flanerar längs stadens gator; jag iklädd en jeansväst från 90-talet med det klassiska keffiyeh-mönstret inbroderat. Razan filmar och regisserar. Känslan pendlar mellan hopp och hopplöshet.
Year of birth: 1984
Place of birth: Stockholm, Sweden
Phone: +46704852961