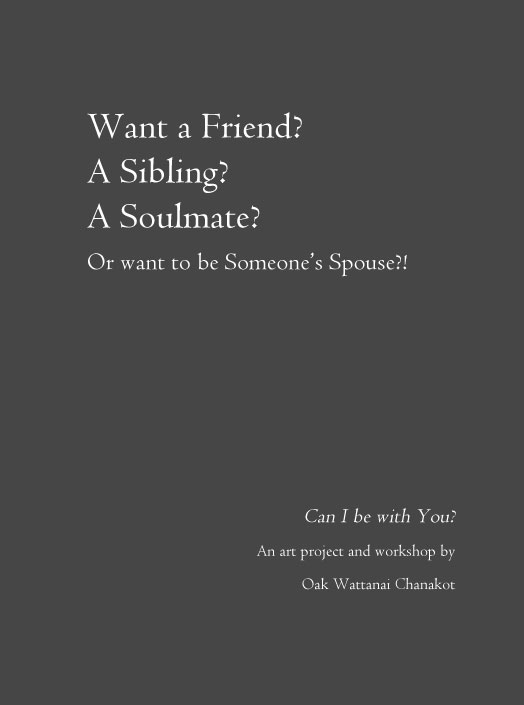 Want a friend?
A sibling?
A soulmate?
Or, want to be someone's spouse?!
'Can I Be with You?', is a process-based work where I invite individuals to be in a close relationship with me for a period of time. Such relationships include friendly, romantic, familial and spiritual relationships. The participants were to reply from advertisements posted in public forums with a description of the relationship they'd like to explore. We meet and create a script with characters' personalities, our activities and other requests according to participant's preferences. After we perform our scripted close relationship roles, we would discuss, reflect and analyze our experience together.
Can I be with You?
Vill du ha en vän?
Ett syskon?
En själsfrände?
Eller vill du vara någons make eller maka?!
"Can I Be with You?" är ett processbaserat verk där jag bjuder in enskilda att befinna sig i en nära relation med mig under en tidsperiod. Sådana relationer inkluderar vänskapliga, romantiska, familjära och andliga varianter. Deltagarna svarar på annonser publicerade i offentliga forum med en beskrivning av den relation de skulle vilja utforska. Vi träffas och skapar ett manus med karaktärernas personligheter, våra aktiviteter och andra önskemål i enlighet med deltagarnas preferenser. Efter att vi har spelat våra nära relationsroller enligt manuset följs detta av en diskussion, reflektion och analys av vår gemensamma upplevelse.
Year of birth: 1983
Place of birth: Bangkok, Thailand